SocialSpace at ESTEC in Noordwijk
📅 — 🧮 1190 words — 🏷️

personal
---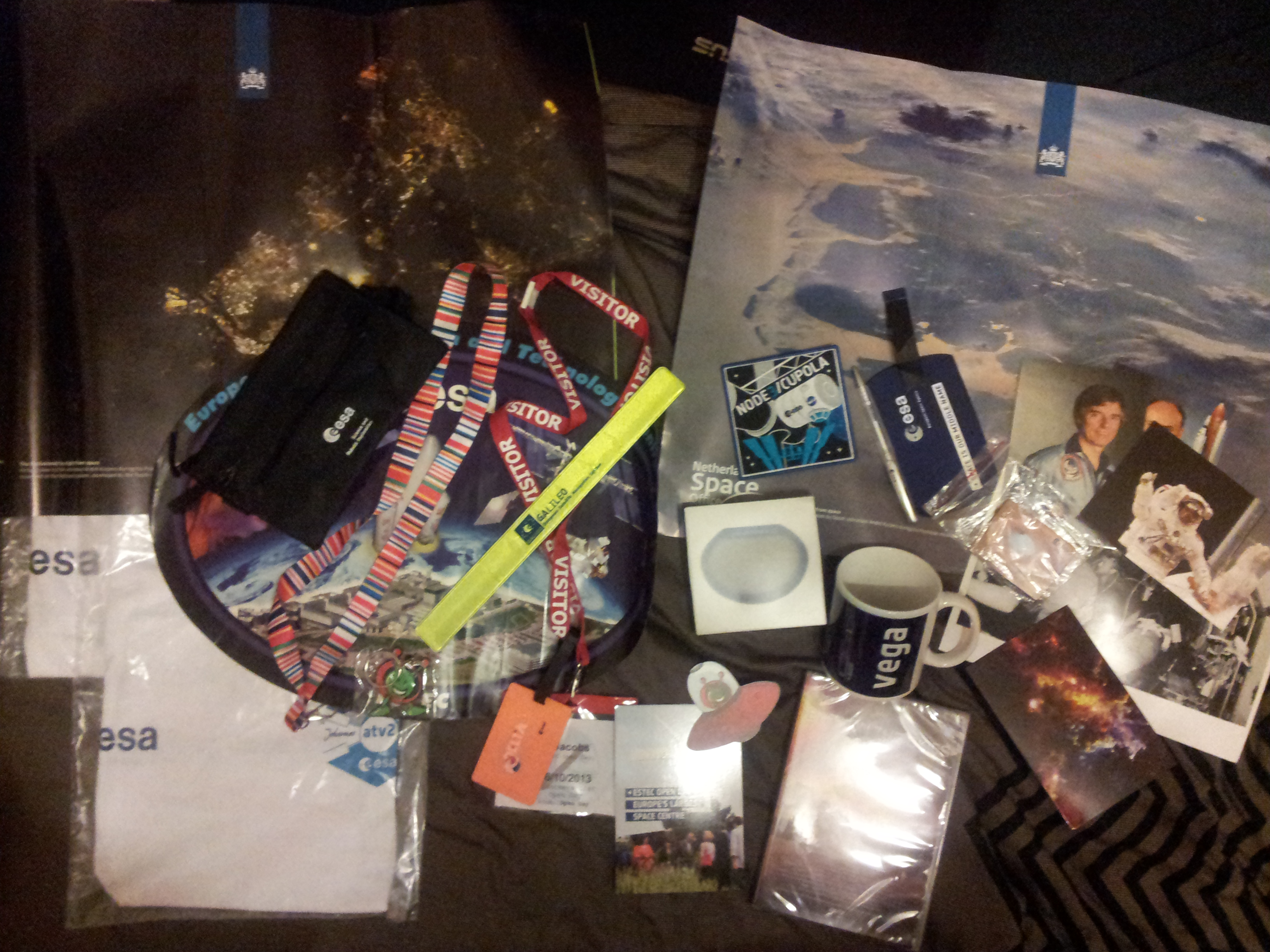 Yesterday I went to the open day at ESTEC (European Space Research and Technology Centre) in Noordwijk, the Netherlands. This is the ESA (European Space Agency) facility that houses most of the technology research and project development. I'm not even sure what it was anymore, but they have some rooms and utilties over there that even make NASA jealous!
However.. I wasn't just at the open day, I was actually invited for the #SocialSpace event hosted by @social4space together with these tweeps. Mostly Dutch people, but also some from Belgium, Germany, France and even Spain.
Seeing stuff at ESTEC is really cool, but seeing them and hearing inside information about it while wearing a VIP (Okay, it only said visitor, but hey!) lanyard and using all the side doors and even the golf course to get to your destination, is really awesome!
First time SpaceTweep
I'm a first time spacetweep, in fact this was my first tweetup at all. I did however visit ESTEC once, as a tour from the Space Expo museum where I was last year.
But my knowledge was subpar compared to the others. Luckily I'm a greedy learner, interested in science and not socially awkward enough. Like in between a nerd and a geek, maybe?
The ESTEC social happening was organised by Julien Harrod and Maria Bennett, they did a great job. I would love to do this again, but maybe not simultaneously with a public open day 😉
My experience
So my experience was totally awesome of course! What I liked the most was the interaction with the people. There was a crazy (the good kind!) Belgian dude called Coen de Beule who gave us a secret tour and insisted we went outside 'the beaten path'. We saw some amazing things and learned a lot of hidden gems. We also were able to peek into a secret room. But don't tell anyone!
Ex-astronauts Reinhold Ewald and Ulf Merbold
Another great example of this interaction with people is when Reinhold Ewald (MIR station astronaut) and Ulf Merbold (first ESA astronaut) came to our room and talked about their experiences. It was like sitting at a fireplace, listening to grandpas telling stories.. and (without the fire) it actually was!
At one point Reinhold was telling about fires on board the MIR station and Ulf jokingly said it never happened when he was there. They also told about the fact that each astronaut secretly takes a memorabilia on board. Ulf brought a pocket watch that he got from his grandfather and Reinhold brought a little figurine of the Domkloster (cathedral in Cologne).
Spaceshuttle vs Soyuz
When asked about the Spaceshuttle vs Soyuz, they say it doesn't really matter. The Spaceshuttle was a bit more roomy and more comfortable, but the Soyuz always did its job. If they really had to choose, they'd pick the Soyuz. Would be nice if they could lose the hefty amounts of G-force while landing!
They also seemed to like the Russian endeavours more. They are more human, in a way. For example, there was supposedly a rule that you couldn't be longer than 180cm and both astronauts in Ulf's team were taller.. so they just shrugged it off. It actually made me think; the entire internet knows these 'crazy Russians videos', but are they really crazy or just ingenuitive and like to get the job done? You decide!
Talks
In the afternoon we saw some talks.
Kirsten MacDonnell is the loadmaster for the ATV support vehicles that run supplies to and from the ISS, she has mastered the art of tetris (I think) and knows exactly how to pack a spaceship.
André Schiele talked about robotics, mainly a new haptic exoskeleton robotic arm that could be operated remotely. At the start of the presentation, they only had 15 Twitter followers and we weren't allowed to leave before he had 200. We ended up with 33, so a 100% increase. Close enough!
Rob Postema is part of the Integrated Applications Program, where they try to connect (space)science with businesses. Truth be told, there's no more space race and government funding is getting scarce. Getting valuable satellite data into the hands of common businesses is the new way forward. When I asked whether they had some kind of open data program, he mentioned they had something somewhere, but kind of no.
Dirk Schuettemeyer gave a presentation on the Earth Observation satellites. Unaware to me they have two types of satellites; scientific and operational. New satellites go through a lot of selection procedures to earn a place in space.. most scientific satellites are small and don't have propulsion systems, they'll enter the atmosphere again and burn up. Next launch he'll do is: Swarm.
André Kuipers?
At one point in the day we started this goosechase to find André Kuipers, we weren't the only one. In the end we finally met him, and he had just enough time to take a picture with us before his assistant literally dragged him away. He's just too famous..
Next time
There should definitely be a next time. But then we should do it on a normal day, maybe get a chance to speak with some employees (if they have time) and also speak with André.
Apparently this was also only the 3rd time that ESA (or ESTEC only maybe?) opened their gates to the public, mainly because they have a new CEO who pushes for these kind of things.
So to sum up, I really enjoyed this day, met a lot of cool people, learned a lot of new things and ESA and their activities surely sparked new interest in me.
A tip from me to everyone at ESA, also the speakers that talked to us and wanted some recognition; OPEN UP!
We're all humans, it's 2013, nothing can be perfect.
Present yourselves as human beings and ask for help, socialize and engage people! Once you do that, things will happen naturally.
So I guess I'll see you all at TEDxESA? 😉
P.s. Follow this robotics department, @ESATelerobotics, they are up to something and need followers!
Fun facts
ESTEC's grounds actually fall under European sovereignty. The Dutch government and emergency services have no authority. Airspace is open though.
Because of that, they have their own medical support, fire services and guards.
Pickles have been smuggled up into space.
The Galileo project is in a special building, that's so secret that even knowing it's secret is a 'crime'. I mean.. so I've heard.. like.. in the hallway..
If you've been an ESA employee, you can have access to the golf course.
The tiny propulsion mechanisms that guide the ISS back into the right orbit fire tiny electrical pulses, in microgravity that's enough power. They are called 'mice farts', by the engineers.
Because of the infamous Dutch weather, they've built some rain/wind shelters over some of the sidewalks.
ESTECs CEO drives an aerodynamic recumbent bicycle to work.
I still have a free lunch card with no expiration date! 😀