Road trip to Scandinavia 2013 - Part I
📅 — 🧮 1183 words — 🏷️

personal

scandinavia-2013
---
Our road trip to Scandinavia
I've been wanting to visit Scandinavia for quite a while, I've been to many European countries (Great-Britain, Germany, Belgium, France, Spain, Austria) but never to one of the nordic ones.
At a previous internship 2 co-workers of mine have been there and they were absolutely loving it, especially Norway. If you asked me in february where I'd go, I would have probably said the Garda lake in Italy. But since June all plans had changed to Norway.
Summary
Total days

Thirteen, driving into the night, arriving on sunday, exactly 2 weeks later.

Driven

4.298 kms (2.671 miles)

Photographs

1.242 (Panasonic Lumix DMC-FZ38) & 292 (Samsung Galaxy S2 (phone))

# of currencies

Four (Euro, Danish krone, Norwegian krone, Swedish krona)

# of timezones

Just one (Central European Time)

Weather

Rain in Stavanger on day 5, overcast on 6, light rain on day 13 and heavy rain on day 14, except when we were in Malmö, where it was partly cloudy. All other days were just beautiful! In and around 25 degrees celcius, with peaks in the 30s. Very lucky, even clear skies in Bergen.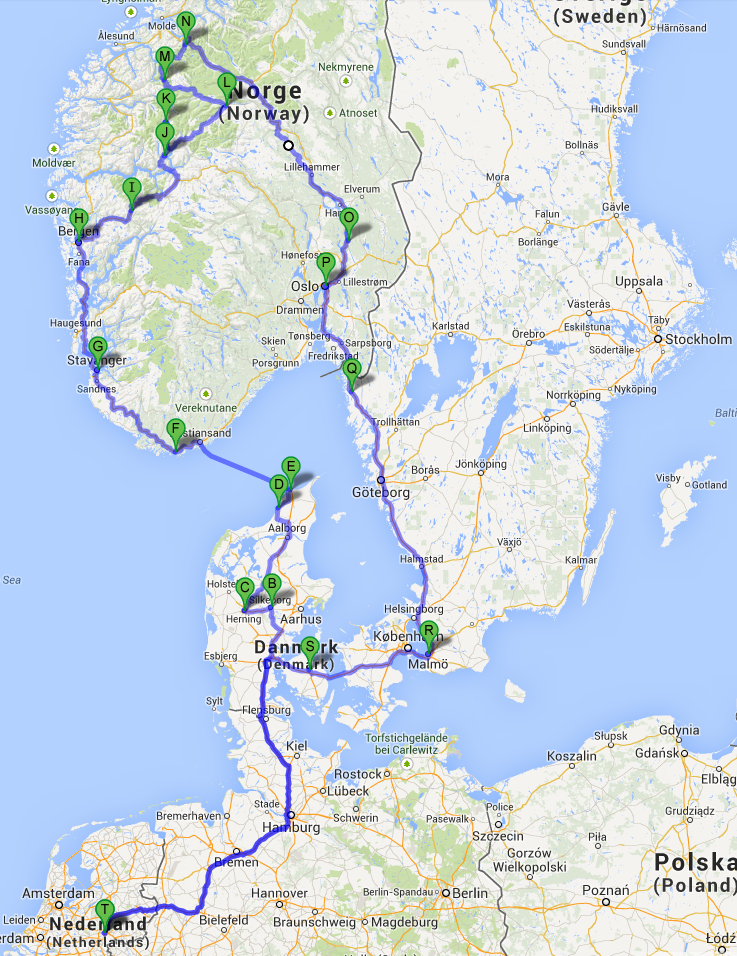 Arnhem (start), NL -> DE -> DK, Sønderborg (1st day), Himmelbjerget/Silkeborg, Herning (2nd day), Løkken, Hjørring (3rd day), Hirtshals (DK) -> Kristiansand (NO), Mandal (4th day), Stavanger (5th & 6th day), Preikestolen, Stord (7th day), Bergen, Tvindefossen/Voss (8th day), Flåm, Borgund, Hafslo (9th day), Nigardsbreen (glacier), via mountainpass Riksvei 55, Lom (10th day), Geiranger, Trollstigen, Lesja (11th day), Peer Gyntveggen, Langset (12th day), Oslo, NO -> SE, Tanum (13th day), past rainy Göteborg, Malmö (SE), DK -> DE -> NL, back home!
Planning
I know a handful of people in Denmark, Norway and Sweden and so we decided to make some stops in Denmark and also visit a friend.
The only thing that really got "set in stone" was our ferry from Hirtshals (DK) to Kristiansand (NO). This would be on Wednesday, July 17th. Apart from that, nothing was set and it would be an adventure.
We often reminded ourselves of that as well "hey.. it's an adventure. Anything can happen!".
Of course we had plotted some stuff (and with we I mostly mean my girlfriend). We first decided on the base route: Arnhem (starting point), Sønderborg, Herning (via Silkeborg), Løkken and then Hirtshals to leave for Norway. There we would leave Kristiansand and stay in Mandal, followed by Stavanger, Bergen, Lom, via the Geirangerfjord and Trollstigen to Lillehammer, Oslo, Göteborg, Copenhagen and via Ribe back home. My navigator and co-pilot also wrote down a lot of interesting stuff, which is why we'll know a lot of the times of arrival/departure and prices of ferries.
Day 1: Arnhem (NL) to Sønderborg (DK)
We left at 8:22 for Sønderborg, a Danish coastal city in the southern part of Denmark. It would be 590 kilometers. We cruised through Germany, wish I had a BWM, but my 1.6 engine did fine with 130km/h. We arrived in the afternoon in the city, parked in some street and went for a little walk around the town. The main objective was to find an ATM so we had some Danish kroner. We had planned to go to the castle, but it looked less impressive and we are cheap-asses, so we just walked around it, the beach to the left and the harbour to the right. Then we walked over the short boulevard and stumbled into the city center. Quite by luck we found an ATM.
Then we went to the camping, it was 16:00 by then. The Danish campsites were the most expensive and at this first one we also had to buy some sort of "Europe Camping Key" card. Which would be send by mail to my home address and would expire in one year. Pretty useless for the two campsites we visited in Denmark. None of the other campsites requested to see this "Europe" card.
We got to pick a spot somewhere on a field. This camping was mainly focused on caravans and campers. We found a spot next to the tennis court, between some trees. This was probably not supposed to be a tent spot, maybe a camperspot, but it was somewhat private from the rest of the field.
Had to fight to get the tent pegs into the hard ground, probably through some oak tree roots, but it worked. We didn't bother with the wind guy lines, because we were already pretty sheltered. After eating some tortellinis with spicy tomato sauce, made on our trangia (wonderful things) we went for a walk.
When we were there, it was the second last day of the Ringridning Festival, we actually missed the parade that was held just before we arrived. We did however see a lot of horse manure and horse trailers. We had a stinkin' suspicion ;).
We didn't know this was happening, it was just a nice little added coincidence.
We walked some further through the city, past the fun fair that was set up for the festival and went home..
Day 2: Sønderborg to Himmelbjerget and Herning
We left the campsite, followed the GPS and ended up in a closed-off street, because of construction. Mm shit, where do we go now? Hey wait a minute.. there's a supermarket over here! So we went into the "Netto" which has a real cute logo and bought some tasty things for on the road; blessing in disguise.
We were heading towards Ry, a little town towards the south-east of Silkeborg, below all the lakes. Here we would get on a boat and get off at the Himmelbjerget, Denmark's (once believed to be) tallest mountain (read: hill) with its magnificent height of 147 meters.
We took a boat (not the steam-engine one) to the drop-off point where we met up with our friend and walked this mount Everest towards the tower and the view that you're going to be rewarded with.
Then our friend drove us back to Ry, where our car was parked. We followed him to his house and then realised how far he had driven to come and see us. We drove on some small roads, which was nice, this was a bit more touristy than driving on the highway, which is probably what my GPS would have done.
After the grand tour of his (parents) crib and introducing him to stroopwafels, we went to Herning and saw some "culture". We then went shopping and bought an entire cow, basically.
After some Danish cuisine we played Call of Duty split screen and my girlfriend and I went to sleep in his living room. This was the only day we didn't sleep in a tent.
Read on!